It's one thing we can't leave behind. Mobile phones have become a need in today's generation from sunrise to sundown. It's a device that has enabled us to connect to people wherever in the world they may be. It has even become our portal to the fast reacting world of social media.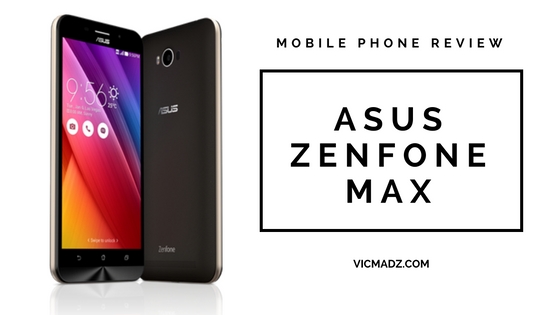 My smartphone died a year ago. It's the MyPhone Rio Junior – a dual sim entry level phone for call, text and basic social media. It's problem – I can't install too many apps due its limited memory, which was a known issue for this specific model. After the battery died on me, I decided to go for a Cherry Mobile Flare 4. Its specs were promising except for the battery life. I also too have issues with the photos taken on that phone. I feel it's not really 12MP. I learned a couple of lessons on the past 2 phones that I had. I must admit, the Rio Junior and the Flare 4 were truly affordable – all below Php 5,000.
After days of careful thoughts, I have decided to go for an ASUS. The majority of the bloggers I know were either using ASUS or an Apple.
There were three things that I considered prior to purchasing the ASUS ZenFone Max. It's mainly – the battery life, photo quality and storage and the ZenFone Max was an exact match from what I really needed.
Here's why.
STORAGE
It has a default 16Gb of storage. Just enough to install social networking apps, mobile photography editing apps, and extra apps to spice up productivity and knowledge. So far I haven't bought an extra memory card though I'm aware that it can cater as much as 32GB. It has 2GB of RAM (Random Access Memory) and just enough to process multiple apps when multitasking.
PHOTO QUALITY
It boasts it's 13MP back camera. From which I think is a true 13MP camera compared to the Cherry Mobile Flare 4. (I'm sorry If I'm comparing the Cherry with an ASUS.) Its preset themes make it easy to switch from mode to mode. Aside from its automatic settings, you may also set the manual settings to the camera phone. I specifically like switching it to Depth of Field when doing macro shots, Low Light, Selfie, Night and the Low Light. Check out my Instagram feed for the latest shots taken.
BATTERY LIFE
One of the major problems I had with my previous phones were its battery life. I'm taking photos using my mobile phone and upload it on my blog or on social media. Most of the time they fail me when covering major events to blog about. With ZenFone Max, I don't have to worry as I have tried capturing photos and videos on an event all day long. I must say it truly lasted for 2 days during heavy use – it lives up to its promise. This phone gave me that confidence to capture as many photos as I can.
PRICE
In the Philippine Market, the ASUS ZenFone Max is priced at Php 7,995.
Is it the right mobile phone for you?
If all the three are your major priorities on a phone, then this is a perfect mobile phone match.
If you liked this post, feel free to share it. You may also follow me – @vicmadz on Twitter, IG and Snapchat and Vic Madriaga on Facebook. I'm also on Youtube. You may also email me here: vicmadz@live.com.
This is not a paid post. The blogger bought this mobile phone in good faith out of the good reviews it earned. ASUS did not send this product to the blogger.