I have heard about Boyong's Special Bagoong and I must say that Boyong's is making noise not only in Cagayan de Oro but also with neighboring cities and islands in the Philippines. So what's the catch? Their Cagayan de Oro made Shrimp Paste.
What's the buzz? Aside from their original, best seller spicy bagoong – they are now introducing another flavor – the Boyong's Hot and Spicy Bagoong.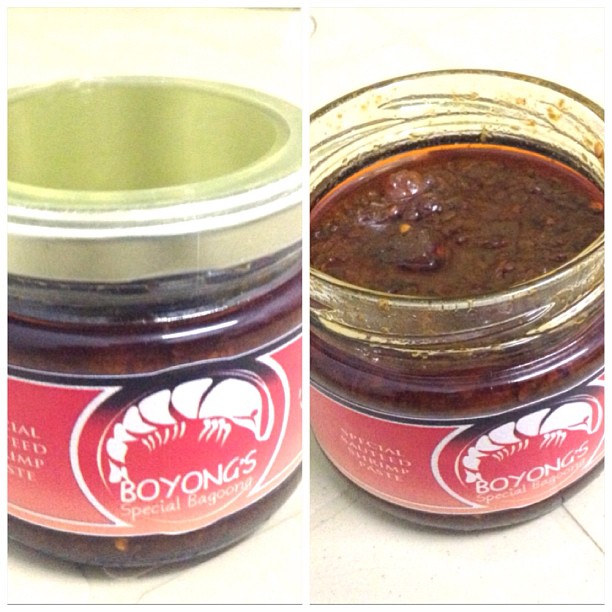 WARNING: Make sure a glass of water is ready before digging in your breakfast, lunch or dinner as it will be surely HOT and SPICY. It's no joke, when they say it – it really is it.
Personally, I'm not a hot and spicy food fanatic. I stick with the traditional – salty or some sweets as I also have dietary restrictions. Boyong's Original Special Bagoong is my favorite among the varieties but I told myself that I should try the HOT and SPICY Bagoong and it never failed my expectations. In fact, it's more that what I've expected. I  told myself to just get a teaspoon and pair it with the fried fish – "Yun oh! Yummy!" 
I suggest you try to pair the hot and spicy shrimp paste with lumpia or sabaw and for sure you will eat like a lil dinosaur. (Peace!) Imagine the feeling of mangoes with bagoong.
To my readers, this is a VICMADZ Highly Recommended, go to the nearest store in  Cagayan de Oro or in Boracay to get a taste of Boyong's Hot and Spicy Bagoong priced at Php 130.
Ato Gyud Ni! Pasalubong Shop
East Concourse, Limketkai Center
Casa Luciana
Sgt. Angelo Velez St., Mabulay Subdivision
Happy Eggs and Eatery
19th-2nd Streets, Nazareth
Louie's Food To Go
SeriÑa Street, Carmen
Margo's Meats & More
Tomas Saco St., Macasandig
MK Pasalubong Center
Gaston Park Circle
Pine Ham Factory Outlet
Corrales Avenue
Prime Meat & Deli
Rosario Arcade, Limketkai Center
Uptown Condotel, Pueblo De Oro
Urgena Fruits
South Concourse, Limketkai Center
Fruitstand, Divisoria
RoadStop Convenience Store
Station 1 Main Road, Beside D'Mall
Boracay, Aklan
You may also contact Boyong's Special Bagoong at 09228970251, or follow their updates on their Facebook Page. Happy Eating everyone!