Good day, Higala! How are you? I hope you are all doing fine.
Earlier today the CDOBloggers, Inc. (Btw, I'm their P.R.O. now. 🙂 ) has announced the launching of its yearly social media initiative called #Come2CDO.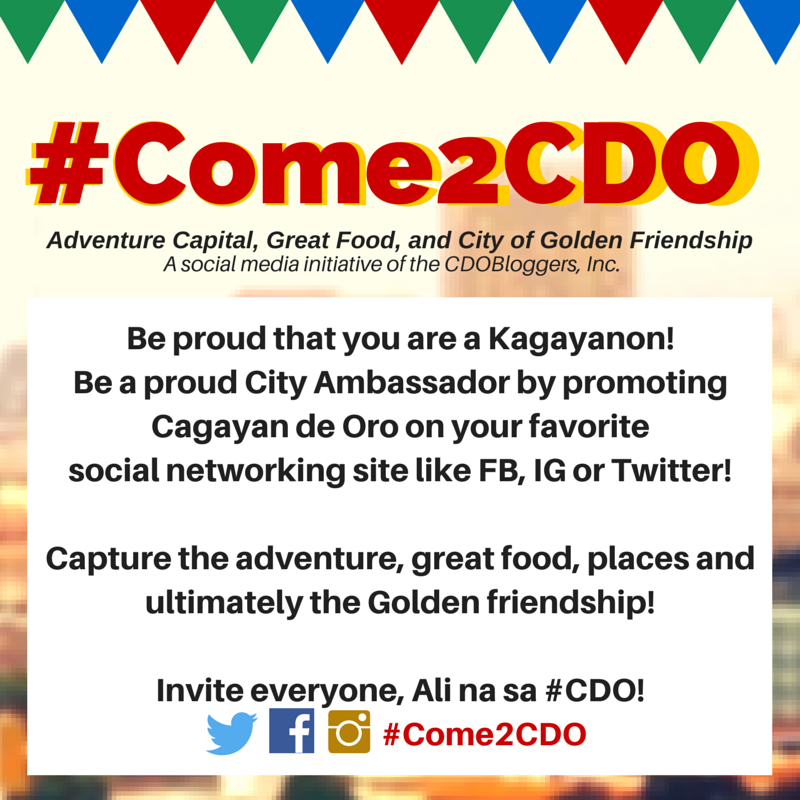 As you all know I lead the group from 2012-2013 and I have seen the group grew in terms of skills and numbers. I am happy to say that more CDOBloggers, Inc. members has been recognized by award giving bodies.
Their efforts in blogging and in promoting Cagayan de Oro has been very tremendous and I must say commendable. I have high respect to their expertise in the field of blogging in whatever category they belong – it could be from career, food, lifestyle, jobs or tourism based blogs.
The image of the beautiful Cagayan de Oro and magnificent Mindanao has been tarnished through the year due to some unexpected events. I rather not mention them. 🙂 The job of promoting our city is not only with the Department of Tourism or our City Tourism. I must say it's not enough. Times have changed – we are now in the social media ear. Thus it's a lot easier to promote the city. It's not only their job, it is also our responsibility to do it in our own little way. Let's do this, Higala!
The objective of #Come2CDO is to encourage our friends, family members and tourists to literally come to the City of Golden Friendship.
So how do we do this? With social media, it is easy peasy. Hashtag #Come2CDO in every post or photo shared on different social media sites like Instagram, Facebook or Twitter. The more visual it is – the more inviting. Capture every tourist attractions, great food and even the Golden Friendship that we are known of.
I'm sure we will not settle being the 2nd most competitive city in the Philippines. I know CDO will really strive more this time.
Kagayanon, thank you very much. If you have questions, don't hesitate to drop a comment, tweet me @vicmadz or @cdobloggers. Advance Happy Fiesta Cagayan de Oro!
#Come2CDO campaign was created by Mommy Ruby of the CDOBloggers,Inc. a few years back.