August is such a dear month to me – it's my birthday month! I'm official turning a year older on the 26th! Haha! Yes, I have announced my birthdate and I'm ready to accept your gifts.
But before I accept any gifts, let me pay it forward. On August 22 – 5PM, I will be hosting the first ever blogging webinar from Northern Mindanao, the Philippines. Yes, it a bold move.
It's not the conventional but it's the way to go – a Blogging Webinar for the Beginners!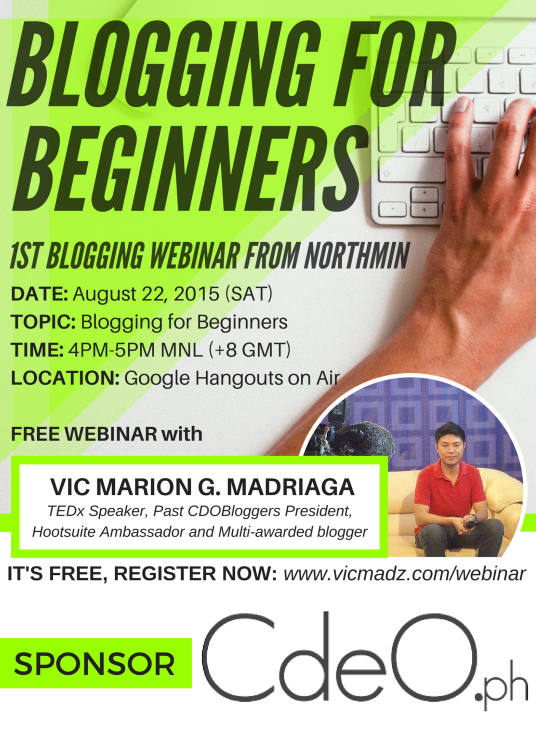 The past few months I have been "hunted" by friends who are curious on how to start a blog. It frustrates me that I can't answer all of them using emails, tweet of via FB messenger.
It is really a lot better if blogging is taught the interactive way where I can share stories and experiences throughout the years of blogging and exploring the social media space.
So I thought of an economical and easy way to teach blogging everyone – using the free technologies around us – via Live streaming on Youtube. I'm a big fan of free and quality stuff and technology!
Don't Worry, I will teach you how to start a blog – TOTALLY FREE! 
This is my birthday gift to you!
Enter your name and email and on the next few days you'll receieve updates from me about the blogging webinar and how to win a Gift Certificate from our sponsor. Don't worry, I hate spam too!
If you have questions, tweet me @vicmadz or message me on FB. I'll do my best to answer.
P.S.S. If you think someone can benefit from this, please do share this to your friends by clicking the icons below. Salamat! (wink)