Hello there! Happy 2015! How's your new year? I bet most of us are still on the vacation mode where we can freely indulge to eating, partying or traveling perhaps. I hope and wish your new year is well.
Twenty Fourteen has been a big year for me. There were triumphs and also pain points, but for sure lessons were learned. Now, permit me to say this, I'm a better Vic.
Standing Firm on Decisions and Statements
In the past, I used to consult everyone of any decision that I will make. Truly I have put a lot of burden to my friends. In 2014, I must say, 90% of the actions that I have done were from my own thoughts and feelings.
Saying No
We can't really avoid people taking advantages. If they think that you can easily be driven by their personalities, wait, think – stop the drama, it's not worth it. Ask yourself – Will you remain a follower forever? Say no whenever possible and applicable.
Travelling Solo
I look forward to my entire journey – traveling solo. There is a sense of fulfillment of being able to cross the sea to show your love one that you are there of her birthday. I'm talking about my Ozamiz Trip – it was truly AWESOMIZ! I shall share more of it on a separate blog post.
Remember, You have a Voice.
Our environment is not perfect. No one, no rules are perfect unless they are made to perfection. We were given a voice. Use it; say what you think is right. Rather than being silent, ask, clarify what is to clarify. There could be no instant answer but the feeling is good when you've raised it up.
Be Crazy on What You Love To Do, Explore and Be Hungry
Further your studies, read books, read articles on your interest compared to watching TV. Several books, audio books and presentations took me to a different dimension. Never stop learning.
Being Creative and Innovative
I know these are big words but I tell you, your single idea may change something. I have a lot of failed ideas, what I do is revive them and partly innovate it until they're ready.
Disconnect, Find Peace of Mind, Relax
You may see being noisy online but in reality 75% of my posts online were pre-scheduled. Thanks to Hootsuite – I get to have more quality time with my loved ones.
Save, Invest
Your single peso or hard-earned money will make a difference. Think of the future. I made my first investment in 2014. Should you interest in getting one, contact me.
Continue Loving and Giving
No more elaboration, just this <3.
There's a lot more but these are the major highlights that I can share.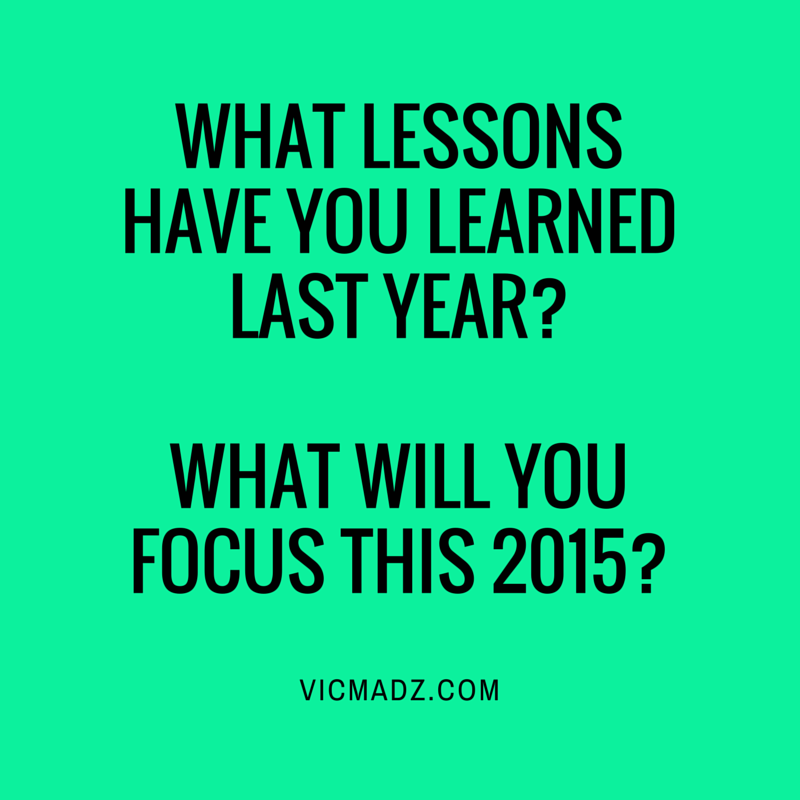 Focus in 2015
In 2015, I commit to continue applying all the lessons learned and strive more to being fit and healthy; mastering how to budget; tithing; learning new skills – driving, digital media, book keeping, more marketing stuff; finding new ways to create income streams; spending more quality time with loved ones, limiting activities to my interest or desires; meeting new people; establishing partnerships; helping businesses succeed using Social Media; giving stuff online; gift giving; charity works; mentoring new bloggers; giving workshops and talks; write more often, creating more opportunities, opening new doors and many more.
Again, may we all have a pleasant and fruitful 2015!
On by the way, here's a shout out to Pauline (@linelineline5 on Twitter), she reminded me to create my New Year blog post. Thanks Line!
Now tell me, what are the lessons that you have learned from last year and what's your focus this year? 3 Lessons and 3 focuses will do. The comment box is ready to take your answers. I shall wait.