I've always wanted to go to Camiguin and finally it has come to reality. Yey! When my girlfriend and I decided to travel out of town we immediately thought of the Island Born of Fire as it is accessible to CdeO.
During the planning stage I didn't want Steph (I call her Babe) to think about anything about the trip so I decided to research on the best tourist spot to visit and the best place to stay in Camiguin Island. About 3 weeks ago, I thought asking my friends on Facebook and Twitter for any recommendations, they answered promptly and thus Paras Beach Resort was the most recommended.
Fast Forward: Woot! Woot! Now, now we have arrived at Port of Benoni, Island of Camiguin, October 19, 8:30 AM and were picked up by our tour guide; Tangga Bahala (recommended by Mindanaoan.com) Kuya Tang drove towards Mambajao where our Camiguin Island adventure starts.
After the whole day of touring a Camiguin tourist spot to the other, we arrived at Paras Beach Resort 5 PM. This Camiguin resort is just a few minutes ride from the capital town Mambajao. Their friendly and smiling receptionist welcomed us to the resort where a complimentary drink was served after confirming our reservation. Their staffs also guided us up to our room. This is going to be exciting.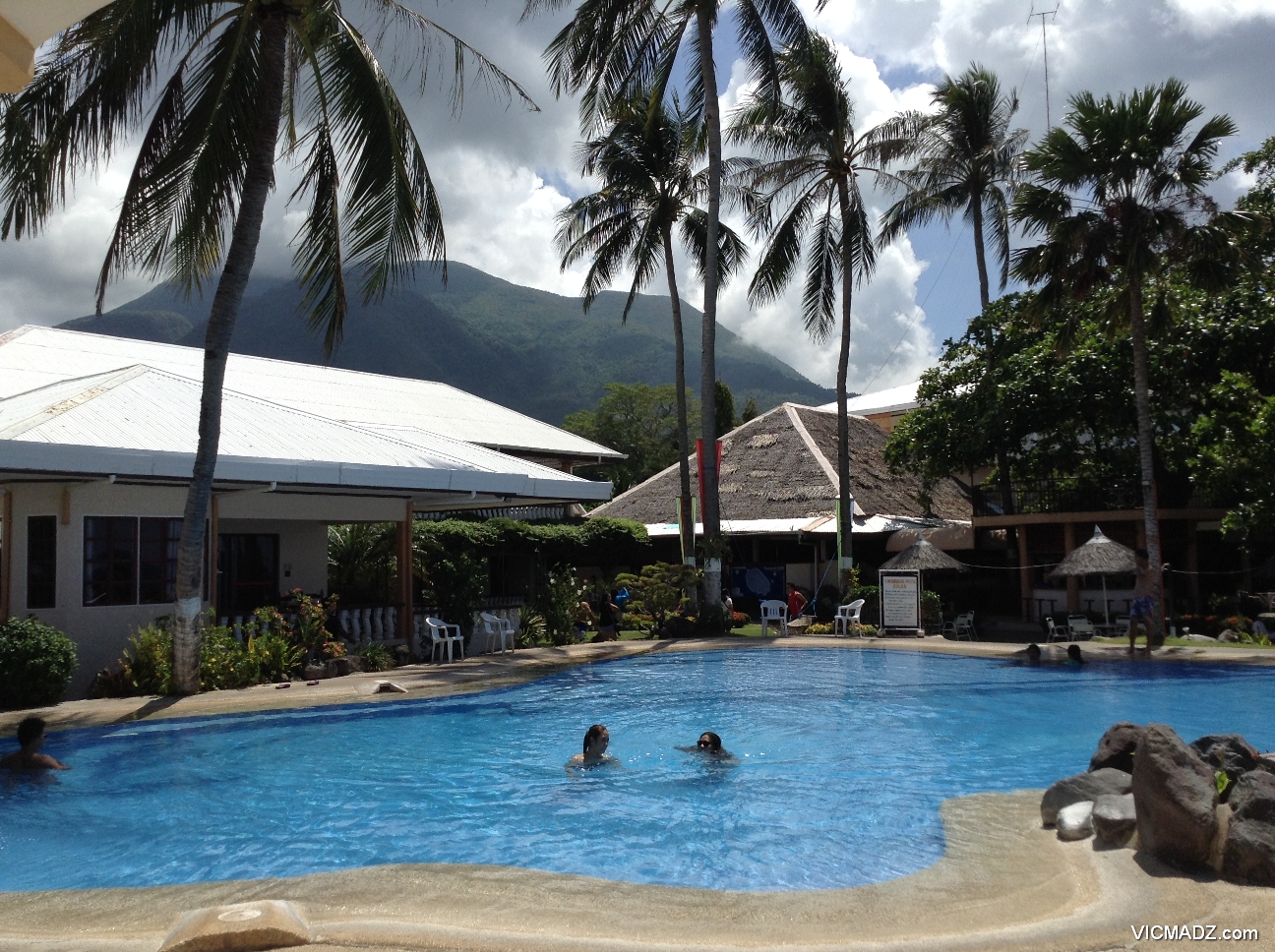 On the back of our minds, we asked ourselves – What is in store for us here? The moment the resort staff opened the door of our room we went silent. (Crickets)

The silence continued until we closed the door and I immediately consumed my glass of juice. The only thing we thought that moment was the word CONVENIENCE. I must say that the reviews and tips that my friends gave me were indeed correct. Daghang salamat mga friends!
As a blogger, I couldn't help myself in taking shots inside their comfy Amihan Room.

Their hot and cold shower relaxed my body from the tiresome adventure we had the whole day. Their "SUPER" comfy and soft pillows were telling us to stay in our beds. Since is a Paras owned property, for sure they have Paras Cable (wink). Camiguin wouldn't be complete without Lanzones fruit atop our table.
The only thing we had in our mind was to rest and this was the perfect place to sleep.
Day 2:
We decided to wake up 5AM to witness the sunrise but wasn't able to achieve it because of the cloudy weather. People flock to the resorts dock as boats were prepared for their White Island trip. Steph and I explore the resort. It was quite, their pool was inviting. I guess the blue tiles made it more inviting. Upon look back towards the south, I realized that we were facing the mountains of Camiguin – it was déjà vu but it wasn't. Looking at that scene I realized that the Island of Camiguin was similar with the book of John Steinbeck called "The Pearl" (but in a more progressive way). Thanks to my cousin Isang who shared that book to me.
For those who love to relax, their cottages are the best spot to just internalize and talk with your girlfriend. If your tummy is already shouting, the Hibok-Hibok Restaurant will surely feed you with their options of breakfast meals. You could also ask them to serve their breakfast on the cottage where you would really feel like a VIP. Since the cottages were already reserved they initiated to put up a table in front of the beach. Amazing, in the name of customer service, they will do that for you.
Looking for a pasalubong for your friends? Their pasalubong center will be the answer. Aside from that, if you're looking for an island adventure, like banana boat, para-sailing, wake boarding, jet ski, kayaking or snorkeling; or even island hopping to the White Island, Mantigue or at the famous Sunken Cemetery; approach their front desk or any resort staff.
Overall, it was a stay full of convenience after our island tour and that is the reason why we should all stay at Paras Beach Resort when in Camiguin.
They are located at Rocky Village, Yumbing, Mambajao,Camiguin Province or contact them via phone +63 (88) 3879008, telefax: +63 (88) 3879117, mobile: +63 9177152285 or email parasbeachresort@gmail.com.
If you are based in Cagayan de Oro, their office is at Unit #1A, 52nd Business Center,Gaerlan St., Cagayan de Oro City with telephone: +63 (88) 3879008, telefax: +63 (88) 3879117, mobile: +63 9177152285 or parasbeachresort@gmail.com. You may also reserve on their website.